Grow Physical & Spiritually With Yoga Teacher Training
With Yoga Teacher Training at Southwest Institute of Healing Arts (SWIHA), you will study and practice an authentic expression of yoga with a transformational approach that honors a diversity of practices and belief systems. Our Yoga Teacher Training program is unique, preparing you to use yoga as a unifying tool for creating health, well-being and a deep spiritual connection as a studio teacher or wherever your big dream takes you! We provide support at every step as you walk your chosen path while integrating yoga into your life and livelihood.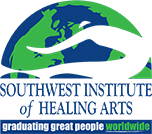 Southwest Institute of Healing Arts
Educational Facility
Get Started on Your Yoga Journey
SWIHA offers a variety of learning options. Choose from among the following:
Start Dates

• Evening: January 19, 2024
• Morning Fast Track: February 12, 2024
What Makes Our Programs Exceptional
With more than 20 years of experience in Yoga Teacher Training education, we are one of the very few nationally-accredited schools that offers independent diploma programs as well as exclusive yoga training integrated with other healing arts programs.

You have the option to focus solely on Yoga Teacher Training or add yoga training to another area of career-expanding options, such as Massage Therapy, Hypnotherapy, Yoga Nidra, Yoga Body Psychology, Transformational Yoga Coaching and more.

You will receive in-depth training that blends Eastern, Western, Ancient and Modern philosophy and practice for students at all levels of experience and practice.

Configure a schedule that works for you with convenient day, evening and fast track classes.

As a Yoga Teacher Training student, you receive unlimited studio class access for the duration of your program.

We educate our community about the impact of trauma on the brain and nervous system, while adjusting our practices to best support those healing from trauma. We strive to empower all students (and their future clients), providing a safe and neutral space with a focus on conscious communication. This includes touch predicated upon permission and consent only.

Our dedicated and experienced educators are active practitioners in the holistic wellness field, and are registered with Yoga Alliance® as E-RYT 500s. This level of experience and expertise assures that they have completed a thorough 500-hour training program and have logged a minimum of 2,000 hours of teaching experience over at least four years.

As your program culminates, you transition to actively creating and teaching real, public classes.

Our graduates may choose official recognition as Registered Yoga Teacher (RYT) by the internationally-recognized Yoga Alliance® organization.
NOTE: Certificates of Excellence are areas of concentration designed to take as CEU's or to be taken within a diploma or degree program; they will not prepare you for gainful employment if taken independently. Only vocational programs of 600 hours or more are eligible for Federal Financial Aid.